Circular Economy - Raising the Sustainability Quotient, Version 2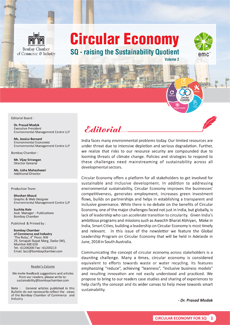 India faces many environmental problems today. Our limited resources are under threat due to intensive depletion and serious degradation. Further, we realize that risks to our resource security are compounded due to looming threats of climate change. Policies and strategies to respond to these challenges need mainstreaming of sustainability across all developmental sectors.
Circular Economy offers a platform for all stakeholders to get involved for sustainable and inclusive development. In addition to addressing environmental sustainability, Circular Economy improves the businesses' competitiveness, generates employment, increases green investment flows, builds on partnerships and helps in establishing a transparent and inclusive governance. While there is no debate on the benefits of Circular Economy, one of the major challenges faced not just in India, but globally, is lack of leadership who can accelerate transition to circularity.
Click here for more details:
Circular Economy - Raising the Sustainability Quotient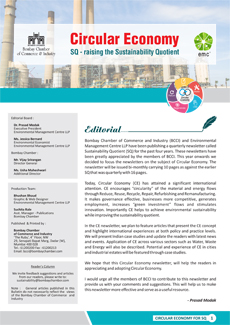 Bombay Chamber of Commerce and Industry (BCCI) and Environmental Management Centre LLP have been publishing a quarterly newsletter called Sustainability Quotient (SQ) for the past four years. These newsletters have been greatly appreciated by the members of BCCI. This year onwards we decided to focus the newsletters on the subject of Circular Economy. The newsletter will be issued bi-monthly carrying 10 pages as against the earlier SQ that was quarterly with 16 pages.
Today, Circular Economy (CE) has attained a significant international attention. CE encourages "circularity" of the material and energy flows through Reduce, Reuse, Recycle, Repair, Refurbishing and Remanufacturing. It makes governance effective, businesses more competitive, generates employment, increases "green investment" flows and stimulates innovation. Importantly CE helps to achieve environmental sustainability while improving the sustainability quotient.
Click here for more details: