Circular Economy - Raising the Sustainability Quotient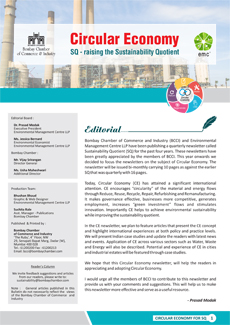 Bombay Chamber of Commerce and Industry (BCCI) and Environmental Management Centre LLP have been publishing a quarterly newsletter called Sustainability Quotient (SQ) for the past four years. These newsletters have been greatly appreciated by the members of BCCI. This year onwards we decided to focus the newsletters on the subject of Circular Economy. The newsletter will be issued bi-monthly carrying 10 pages as against the earlier SQ that was quarterly with 16 pages.
Today, Circular Economy (CE) has attained a significant international attention. CE encourages "circularity" of the material and energy flows through Reduce, Reuse, Recycle, Repair, Refurbishing and Remanufacturing. It makes governance effective, businesses more competitive, generates employment, increases "green investment" flows and stimulates innovation. Importantly CE helps to achieve environmental sustainability while improving the sustainability quotient.
Click here for more details:
Leadership Program on Circular Economy in India
A Memorandum of Understanding (MOU) was signed between Green Industries South Australia and Ekonnect Knowledge Foundation in January 2018 for a Program in Circular Economy Leadership. The signatories were Ian Hunter, Minister for Sustainability, Environment and Conservation, South Australia and Dr. Prasad Modak representing Ekonnect.
The 5-year MOU between South Australia and India provides a platform for both parties to collaborate in the development of an executive leadership training course related to the circular economy. Led by Dr Prasad Modak, will enable the development of a pilot E-learning and pilot F2F course to be delivered in Adelaide, South Australia in June 2018. The training will target people who seek to enhance their credentials and expertise in circular economy, resource efficiency and resource recovery areas and take a leadership position.
By linking into the knowledge and experience of South Australia, the leadership supports Government of India's recognition that waste management and the circular economy are key priorities". The key targets for the course will be leaders and decision makers from business, academia, community-based organisations and government. A special focus will be given to Indian Government's Smart Cities, Atal Mission for Rejuvenation and Urban Transformation - AMRUT program, Make in India initiative, Swachh Bharat Abhiyan (Clean India), Namami Gange (Ganga River Action Plan), Interlinking of Rivers and Climate Resilient Agriculture.
Leadership in Circular Economy
Online Course: Leadership in Circular Economy- Starts May 2018 - spread over 3 weeks
Face2Face Course: Leadership in Circular Economy- 7 days in June 2018
The F2F course will have a strong practice component with visits to Australian industries and CE centres.
For more details please contact This email address is being protected from spambots. You need JavaScript enabled to view it.