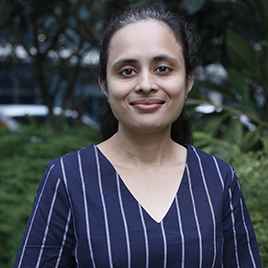 Krupa Desai
Principal Environmental Planner
Krupa has both the training and the experience of working on projects centered on the complex issue of Climate Change. From climate change vulnerability assessments and adaptation planning, climate change assessments for infrastructure and proposal writing to secure funding for climate change projects, she has done it all in an intensive span of 3+ years.
Krupa recently aced a professional exchange program on climate change at the prestigious Purdue University, U.S. over the course of three months. She has lent her specialized knowledge to designing training programs on climate change for a varied audience.
Krupa is equipped with a Master's of Technology in Climate Change and Sustainable Development from the esteemed CEPT University, India and a Bachelor's degree in Architecture from SCET, Surat, India.
Her keen interest in the intricate relationship between climate change and urban issues has added value to her work in Green City planning, Toolkit development for Urban Resiliency and Climate Change Adaptation and Mitigation for Cities. Krupa also shares her knowledge on climate change to post graduate students of well-established academic institutions as a visiting faculty.
She is a trained classical dancer and is passionate about art and design while cherishing an affinity for the science of meditation.