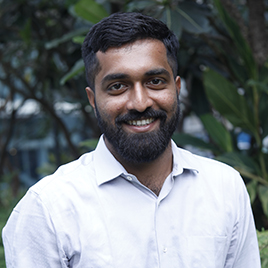 Jay Mehta
Environmental Engineer
Jay has completed his Bachelors in Environmental Engineering and Masters in Environmental Management from L. D. College of Engineering, Ahmedabad. During his study, he undertook internships with Gujarat Pollution Control Board (GPCB) and Arvind Limited. With particular interest in Air Quality monitoring, modeling and mitigation, Jay was selected by Space Applications Centre, ISRO-Ahmedabad for his dissertation on "Spatio-Temporal Variability of Trace Gases over India using geospatial inputs". During his internship, Jay also participated in IITM's SAFAR program and ISRO's AVIRIS-NG and RESPOND programs.
Before joining EMC, Jay was working on Urban Air Quality Assessment and its impact on the Urban Heat Islands under "Studies for harnessing Remote Sensing for Environment and Climate (SHRESTI)" project funded by ISRO. Jay has experience as an Environmental Auditor and has also designed Air Pollution Control Equipment for Industries. Jay also is an ardent believer in social service and was the founder president of "Advanature Club" in his college.
Jay also loves to play Volleyball and Football regularly and has a taste for adventure sports.