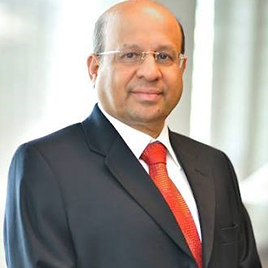 Dr. Bindu N. Lohani
Dr. Bindu N. Lohani was Vice-President of the Asian Development Bank (ADB) for Knowledge Management and Sustainable Development until June 2015. Prior to that, Dr. Lohani was Vice-President (Finance and Administration) of ADB. He was the Secretary of ADB Board, Director General of Regional Sustainable Development and Chief Compliance Officer.
Dr. Lohani has several years of experience and expertise in infrastructure projects, development and financing (clean energy, transport, urban and water sectors), sustainable development and sustainability issues, especially in environment and climate change matters.
Presently he is serving as the Global Head of Climate Change Practices and Distinguished Fellow, Emerging Markets Forum, The Centennial Group, USA. He is a distinguished Adjunct Faculty and a Board Member at the Asian Institute of Technology, Bangkok. Dr. Lohani is a senior advisor to Network among Cities and Private Sector for Asian Smart Cities and member of the Board of Trustees at Institutes of Global Environmental Strategies (IGES) in Japan. He is a Founding Board Member of the Asian Water Council, Korea and Chairman of the Board for Clean Air Asia, Philippines. He is also a part of Sustainability Advisory Council, Ingersoll Rand, USA.
Dr. Lohani is an elected member of the National Academy of Engineering (NAE) of United States, a Diplomate of the American Academy of Environmental Engineers. He has been felicitated by " Lifetime Achievement Award" by Nepal Engineer's Association and China Green Award.