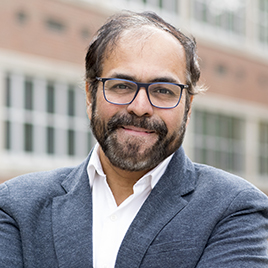 Prof Dev Niyogi
Dev Niyogi is a Professor at Purdue University with Joint appointments in Department of Agronomy and Department of Earth, Atmospheric, and Planetary Sciences. He is also associated with Division of Ecological and Environmental Engineering (Courtesy), West Lafayette, IN, USA. He has been the former Indiana State Climatologist (2005- 2018). His research seeks to significantly contribute to our understanding of the Earth system, particularly the urban and agricultural landscapes, and the dynamic role of coupled land surface processes on weather and regional meteorological extremes.
A total of 11 Ph.D. and 16 MS students have graduated with Dr. Niyogi in capacity of advisor or co-adviser. Dr. Niyogi has coauthored over 200 papers for peer-reviewed international journals, 18 book chapters, and over 150 conference proceedings or abstracts for professional conferences such as the AMS and AGU annual meetings. His work has been highlighted in various media outlets including in the popular press such as Yahoo!, MSNBC, Wired, CNN, LiveScience, National Geographic, Tedx Talk, NASA press releases.
Prof Niyogi is the most recent Chair of the American Meteorological Society (AMS) Board of Urban Environment and member of the elected advisory board of the International Association of Urban Climate. He has provided invited testimonies to the National Academy study group, planning summer meetings, and Senate Working groups.