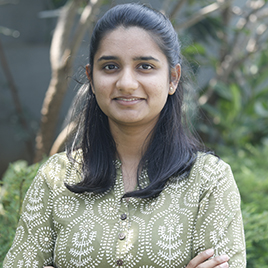 Sakshi Gore
Program Coordinator
Sakshi is a Biotechnologist with an inclination towards waste management. Her interest in sustainability kindled when she joined NEERI for her engineering dissertation and grew as she worked as a part of Sula Wine's sustainability team.
Her interest in sustainable tourism drew her closer to learning more about India's development sector and that led her to working with Grassroute Journeys, a community based rural tourism organization.
Sakshi is equipped with a Bachelor's degree in Biotechnology Engineering from Dr. D Y Patil Biotechnology and Bioinformatics Institute, Pune and is currently enrolled in a post graduate diploma program for environmental management and sustainable development offered by IGNOU.
When she is not working, you will find her gardening in her farm on the outskirts of Nashik or learning a new melody on a musical instrument.
She ardently believes in the power of communication and stories, and finds her creative refuge in writing.