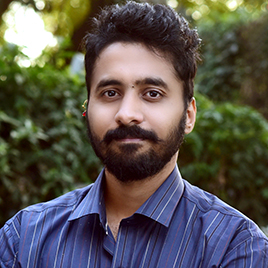 Sameer Kulkarni
Senior Environmental Engineer
Sameer is a development sector professional with an experience of working on projects in Agriculture automation, Energy for irrigation, post-harvest processing and allied sectors for over 2 years. He has a knack for data analysis, research design, and project management.
He has previously worked as Project Coordinator and Research Engineer for the Project on Climate Resilient Agriculture (PoCRA) with IIT Bombay and the Government of Maharashtra that aims at making farmers and villages self-reliant. Having worked with government agencies and non-profit organizations, he has built a strong network of like-minded people.
Sameer holds a Bachelor's degree in Mechanical engineering from Pune University, a Master's in Technology and Development from IIT Bombay and has been awarded with a fellowship from Tata Centre for Technology Design, IIT Bombay.
He joined Ekonnect Knowledge Foundation as a Program Manager and is involved in projects related to Circular Economy, Eco-entrepreneurship and Corporate Social Responsibility.
He is constantly looking for platforms to unlearn and learn, finding appropriate technology solutions that are on-ground evidence based, data driven, and sustainable. During work breaks, he enjoys cooking, playing drums, and exploring India vs Bharat.