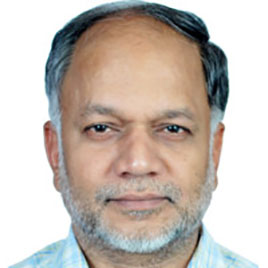 Girish G. Sohani
Mr. Girish has an extensive experience of over 40 years' experience in Natural Resource Management and Rural livelihoods.
He holds a Bachelor of Technology degree in Mechanical Engineering from IIT Bombay alongwith a Postgraduate Diploma in Business Management from IIM, Ahmedabad.
He has been associated with BAIF Development Research foundation (a national level organization working on rural development and applied research with over 5 million families in 12 states of India), initially as President & Managing Trustee (2009 – 2021) and currently as Principal Advisor and Trustee (w.e.f 2021). He is now also a member of the Governing Boards of BAIF Development Research Foundation and its Associate organizations, and several other development organizations. Alongwith with this, he also been Independent Director, Maharashtra Knowledge Corporation Limited (MKCL). 2019 onwards.
Previously he was involved in Institutional Development of BAIF into a multi-sectoral development organization and as a Resource Institution. He also served as an expert on various Committees of State and Central Government, NABARD, National and International Agencies.
Mr. Girish has published / presented over 25 papers at National / International conferences and has received several awards for this work. Some of the awards received by him include "Distinguished Alumnus Award 2011" by the Indian Institute of Technology, Bombay in recognition of outstanding contributions to Rural and Community Development, "Maha – Intrapreneur Award 2013" by Praj Industries Ltd. at the hands of Dr. Anil Kakodkar and "Commander in the Order of Agricultural Merit" by the Minister of Agriculture, Agrifood and Forestry, Government of France (2016).