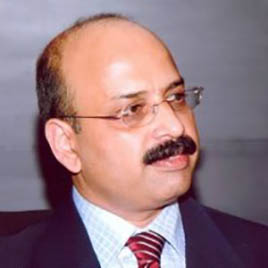 Suhas Tuljapurkar
Mr. Suhas is a practicing lawyer with over 37 years of experience and is renowned for the application of game theory to litigation strategies. He is authorized to practice law in India as a member of Bar Council of Maharashtra & Goa. His main area of expertise is Governance, Risk, Assurance, Compliance and Ethics (GRACE) with a fusion of information technology.
In his efforts towards sustainability, Mr. Suhas has worked in drafting corporate policies that formed part of the National Voluntary Guidelines that subsequently became the Business Responsibility and Sustainability Reports. In association with UN Global Compact network of India, he was instrumental in developing IT enabled solutions for transparently tracking mandatory and discretionary obligations of local bodies under the SmartCity mission of India. He has developed IT enabled solutions on (a) SDG Goals, Principles and Actions (b) CSR Obligations (c) IFC Performance Meters (d) Equator Principles and (e) GRI Reporting. He has advised various companies in preparing Stakeholder Engagement Framework from ESG perspective and has helped finalize their Business Responsibility Statements.
During 1985-87, Mr. Suhas worked on various environmental issues arising from the Bhopal Gas Tragedy. With his background in Statistics, Chemistry and Law, he worked in providing models for quantifying the corporate liability of MNCs in the wake of a disaster. The report prepared by Suhas in association with ILS Law College and its students was globally recognized and published in various journals. He worked, supported, and provided legal research with a focus on comparative law studies and analysis to national consultative committees that introduced Environmental Impact Assessments under the Indian legislations. Suhas provided research and support during the Asbestos Prohibition litigation in India as a part of the public action group's efforts on Occupational Health, Safety and Environment. During the period of 1985-88, Suhas worked on developing a computerized database of the Supreme Court's judgments on environmental matters.
Suhas is also currently working on integrating various ESG Reporting Frameworks to develop a unique IT enabled solution that would integrate compliance management systems with ESG Reporting.
Mr. Girish has published / presented over 25 papers at National / International conferences and has received several awards for this work. Some of the awards received by him include "Distinguished Alumnus Award 2011" by the Indian Institute of Technology, Bombay in recognition of outstanding contributions to Rural and Community Development, "Maha – Intrapreneur Award 2013" by Praj Industries Ltd. at the hands of Dr. Anil Kakodkar and "Commander in the Order of Agricultural Merit" by the Minister of Agriculture, Agrifood and Forestry, Government of France (2016).