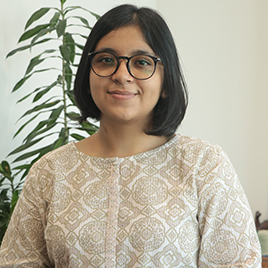 Megha Roy
Social Development Specialist
Megha is interested in everything at the intersection of environment and people. She has about 6 months of experience in the social development sector. She holds an MA in Development Policy, Planning and Practice and a BA in Social Sciences from Tata Institute of Social Sciences, Tuljapur. Her dissertation thesis analyzed the policy context within which municipal bonds, a new model of financing urban water supply systems, is emerging in India, and looked at its impacts on governance and access to water in Pune. She has undertaken fieldworks in rural Maharashtra as well as semi-urban areas in Gujarat, where she studied the sustainability of community-based water management systems.
Through various internships, she has gained experience in research and advocacy, policy analysis, journalism, and social impact assessment.
She is passionate about gender, public finance, social protection, and sustainable participatory action to improve the quality of life and social conditions in rural as well as urban settings.
She enjoys traveling, photography, birdwatching and playing the guitar.