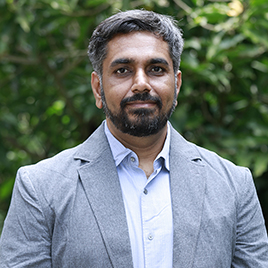 Prahlad Tewari
Vice President
Prahlad Tewari is a Vice President at the Environmental Management Centre (EMC) and EKonnect Knowledge Foundation (EKF). He leads the activities in the fields of Resource Efficiency and Cleaner Production (RECP), Environmental Social Governance Due Diligence (ESG-DD), Eco-entrepreneurship program, and CSR support for industries and corporates. He has over 23 years of professional experience and has worked as a (Senior) Technical Expert in various European Union Switch-Asia funded projects including "REAP" project on improving Sustainable Consumption and Production in Agri-food processing industries in Uzbekistan and Tajikistan, "PROMISE" project on prevention of marine litter in Lakshadweep Sea involving Maldives, Sri Lanka and India and "ACIDLOOP" project on Sustainable Production through market penetration of closed loop technologies in the metal finishing industries in India. Prahlad has also been involved in R&D and field testing of various technologies across sectors.
Prahlad is currently also pursuing his PhD in the department of Energy and Environment from TERI School of Advanced Studies. He holds a M.Tech in Production Engineering from Delhi Technical University (DTU) (formerly Delhi College of Engineering (DCE)), Bachelors in Mechanical Engineering and Diploma in Production Engineering. He has also done a certificate course in Sustainable Consumption & Production (SCP) in Asia from United Nations Institute for Training and Research (UNITAR). He has over 12 publications in journals and conferences to his credit. Before joining EMC and EKF, Prahlad was working as a Fellow and Area Convenor at The Energy and Resources Institute (TERI), New Delhi.
Prahlad enjoys travelling, jogging and interacting with people.