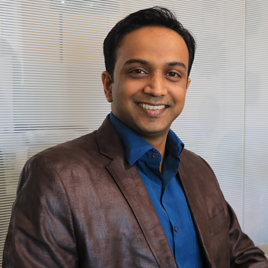 Rajiv Ramchandra
Assistant Vice President
Rajiv is an accomplished sustainability professional with a background in engineering, management and business administration. He has an M.E. in Mechanical Engineering from the University of Sussex, an M.E. in Engineering Management and an MBA in Finance, both from the Rochester Institute of Technology. Rajiv has also completed the Business Sustainability Management program from the Cambridge Institute for Sustainability Leadership at the University of Cambridge.
He has previously served with the New York State Pollution Prevention Institute (NYSP2I), a statewide research and technology transfer centre in New York in engineering and business management functions. His work included leading sustainability projects with various manufacturing companies, stakeholder engagement and operations management. He has spoken at several conferences in the US, and organized industry workshops and roundtables. In India, Rajiv has guest lectured at IIT-Bombay's Centre for Environmental Science and Engineering, and the National CSR Hub at the Tata Institute of Social Sciences.
At EMC, Rajiv is involved in leading the Sustainability Advisory and Circular Economy services, and also supports the other services as needed.
Rajiv is a fitness enthusiast and enjoys working out at the gym, practicing Yin Yoga and meditation. He is an avid reader and enjoys writing, occasionally blogging for the Huffington Post and the Good News Network.