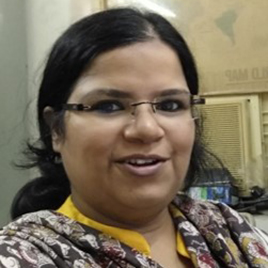 Sivaranjani Subramanian
Associate Vice President
Setting out on an outlook to build and shape the world, subsequently to assess & mitigate the environmental impact of built forms and industrial related pollution, and later to create energy efficient and sustainable systems, summarizes the rationale of Sivaranjani's academic and professional career so far.
Sivaranjani has over 10 years of extensive work experience on energy efficiency, energy conservation conceptualization, Green Building certification, Biomass Gasification power generation, waste management and urban environment.
She holds a Bachelor of Technology Degree in Civil Engineering from NIT Trichy and a Master's degree in Environmental Planning from CEPT University Ahmedabad. She has been involved in advisory for project conceptualization, due diligence, feasibility and energy efficiency studies for various industrial projects.
She is also an Indian Green Building Council Accredited Professional and specializes in green building certification advisory. She has been certified by the Bureau of Energy Efficiency, India as a Master Trainer for capacity building and implementation of the Energy Conservation Building Code in India. She also holds a certificate for Comprehensive Disaster Risk Management Framework (CDRMF) from the National Institute of Disaster Management.
Sivaranjani has spent considerable time in rural India and has worked with NGOs for livelihood generation, village electrification and watershed development programmes.
Armed with an entrepreneurial passion, she is always on the lookout and encourages starting and implementing viable energy and environment based projects. She designed, fabricated and tested a Top-lit up-draft micro-gasifier, launched as 'Wudare' biomass cook stoves, a sustainable alternative to LPG cylinders and conventional firewood cooking.
Outside work she enjoys reading and writing poetry and spend time in learning and singing Hindustani Classical music.