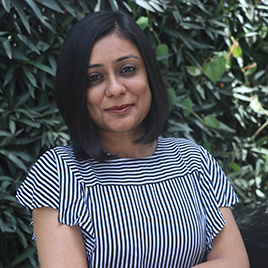 Vishwa Trivedi
Assistant Vice President
Vishwa is an environmental planner and a development professional with 7+ years of experience in strategic planning, environmental advisory, project design and implementation working with government, private sector, non-profits and communities.
She has been involved in preparations of city sanitation plans, regional environmental management plans, environmental and social due diligence assignments, project design, monitoring and evaluation of development projects and capacity building programs on water, sanitation and solid waste management.
She has a wide-ranging qualitative and action research experience. The areas of research include sanitation financing, service level benchmarking for water supply, sanitation and hygiene, solid waste management (municipal and industrial), socio-economic impact assessments and environmental compliance. She has co-authored and provided research assistance to many publications published in international journals and platforms. Her field experience comprise of design and implementation of multiple field surveys across basic services viz., water supply, sanitation, healthcare, education and livelihoods, liaising with government at local level (city and district level), capacity building and training of field representatives, EHS training, compliance and audit and progress review and monitoring of development projects as a part of grant management.
Vishwa holds a Master's degree in Environmental Planning and Bachelor's degree in Civil-Construction (Hons.) from the esteemed CEPT University in Ahmedabad, India.
Strong work ethics, integrity, perseverance and teamwork are assets she brings to the organization. She is detail-oriented and believes in a systematic approach to problem solving.
Outside work, Vishwa enjoys reading history and fiction and experimenting with nature and macro photography. She finds her daily zen in gardening.