Air Quality Data Analytics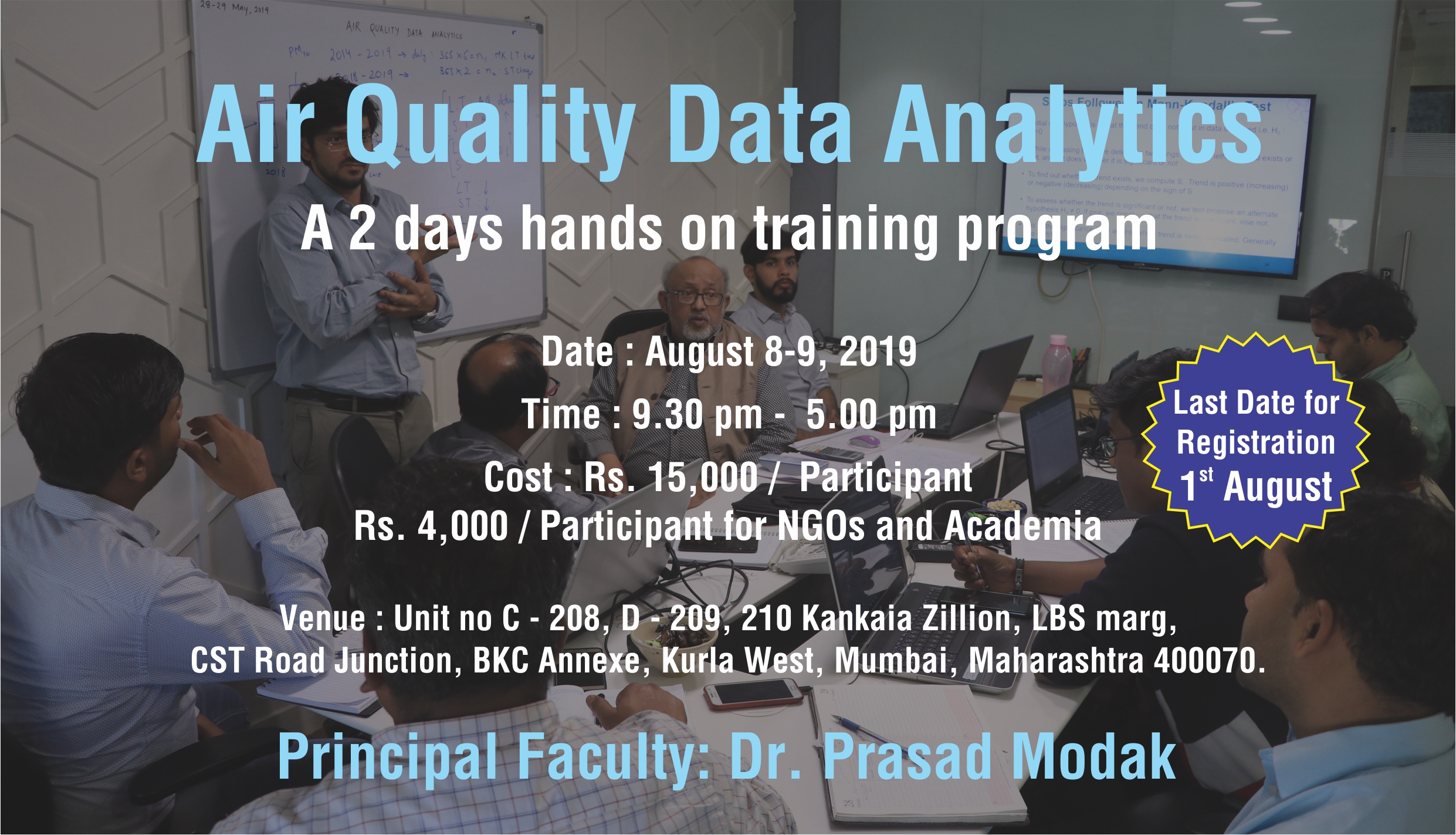 Why the Training Program?
Globally speaking, Pollution Control Boards (PCBs), Urban Local Bodies (ULBs) and Industries generate large amount of data through Continuous Emission Monitoring Systems (CEMS) and Automatic Air Quality Monitoring Stations (AAQMS).
Application of advanced statistical analysis is critical in diagnosis of air quality data as it provides a basis for prioritization and preparation of air quality management programs. Currently, data analysis and interpretation are not carried out rigorously and hence investments made on continuous and automatic instruments have not realized into the benefits they deserve.
One of the major constraints is the limited exposure and capability of the scientific staff in data analysis, interpretation and action planning, and access to analytical and visualization tools.
Typical data analysis involves data validation through identification of outliers (suspect observations), missing data and repeating values. Other statistical methods including, regression, time-series analysis, correlation analysis, detection of trends (magnitude, direction and significance) and violations over the prescribed standards are useful techniques. Analyses of meteorological data in the form of wind rose, pollution rose and persistent wind rose add great value. Advanced techniques such as polar plots help in better source diagnostics.
Specific tools developed for data visualization in the form of time-series charts, plots and maps, saves time and effort for the air quality data analyst in conducting a comprehensive study. Such tools are now available, and their regular use should be encouraged.
Click here for detailed brochure
Registration and Payment
To Pay by Cheque or Demand Draft in favour of :
Ekonnect Knowledge Foundation
Direct Deposit / Bank Wire Transfer :

HDFC Bank

Account No : 00841450000488 (Saving)

RTGS / NEFT IFSC Code : HDFC0000084

Branch : Dadar TT, Mumbai

GST Registration No:
27AADCE2006L1ZU
Click here to view the training report of AQM conducted for MPCB.