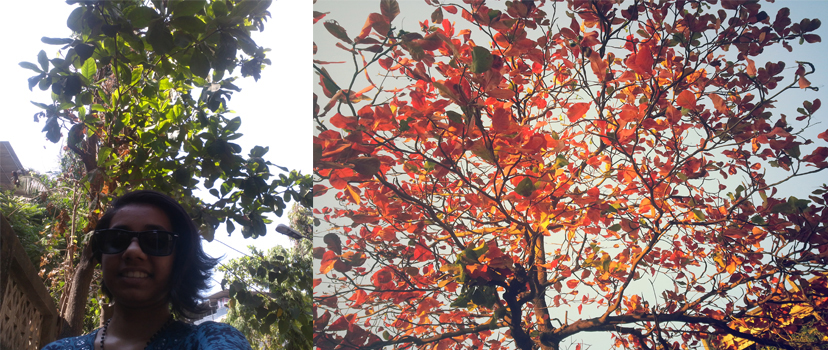 Caption/Sub-title: Magic of Fall
Name of Tree: Almond Tree
Location: Vasai Road
Email id: rebecca90@gmail.com
Share with us a few things about yourself
I'm currently pursuing my degree in pharmacy from St. John Institute of Pharmacy & Research. I love reading, making sketches, writing, and of course a nature lover.
What made you participate in this contest?
One of my cousin' let me know about the happening of this contest to which I was encouraged to participate in. And the direction in which I daily travel for college has a mesmerizing view of nature. Each day I love trees more. The entire journey has numerous trees and mountains to gaze at. This fascinated me to participate.
What you think should be a follow up to this contest?
As you mentioned a tree plantation drive is definitely a good and encouraging idea. But merely planting a tree wouldn't do... it should accompanied even by taking care of it too until it is fully grown.
Would you like to become an ambassador for trees in our city?
Yes indeed. Please keep me updated on any new programs or contests y'all come up with.