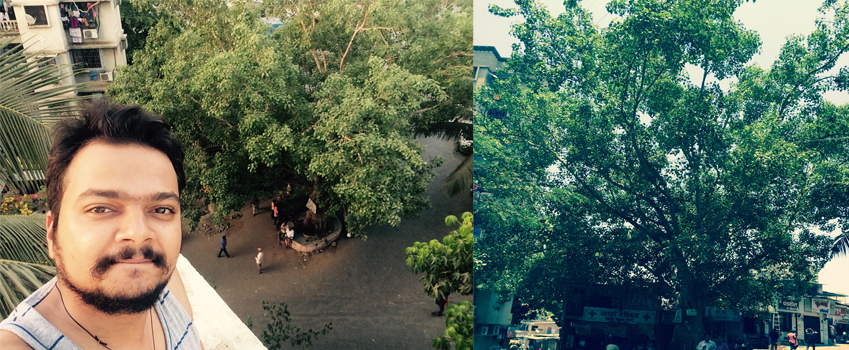 Caption/Sub-title: standing tall in the concrete jungle
Name of Tree: Peepal Tree- Ficus religiosa
Location: Ashokvan, Borivali east
Email id: aniruddha.salvi@gmail.com
Share with us a few things about yourself
Currently I'm working as Marketing executive with Mahindra Logistics. I love trekking, singing and travelling. Have done few treks in the Himalayas and Sahyadris.I love learning about species and animals. I'm especially very fond of dogs. I love nature and spending in the wild, though I can't do it as often as I want. I love observing trees. The thing that I like most about trees how they change with every season. I find myself in real peace when with nature. I also think love and laughter make the world go round and the world needs more people who can spread it willingly and without interior motives. My family and friends play a huge role in my life. They are the reason why I am the way I am.
What made you participate in this contest?
I loved the idea, as it was innovative and unique. A friend of mine, who also participated in this contest, Ms Gargi Chandane told me about the contest. As mentioned above I love observing trees. Till Photography is concerned, I'm still an amateur photographer and ready to explore and learn new things.
What you think should be a follow up to this contest?
I feel cities are losing a lot of trees due to constant construction, expansion of roads and many other factors. Plantation drive in the city is a very good idea but it should be combined with everyone adopting the same tree till it grows fully. Also the trees for plantation can be big trees such as Banyan, Mango etc. which are actually useful in many ways. You can also hold animal adoption drives, cleanliness campaigns, health and hygiene awareness for the underprivileged and educating street children.
Would you like to become an ambassador for trees in our city?
Yes. Definitely. Please keep me posted about the upcoming events